Specifications
Edit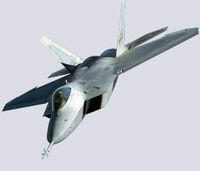 General characteristics
Edit
Crew: 1
Length: 19 m
Wingspan: 14 m
Height: 5 m
Empty weight: 20,000 kg
Loaded weight: 30,000 kg
Max takeoff weight: 40,000 kg
Powerplant: 2 × E-5 pitch thrust vectoring turbofans, 160 kN each
Fuel capacity: 8,500 kg internally, or 12,000 kg with two external fuel tanks
Performance
Edit
Maximum speed:

At altitude: Mach 2.2
Supercruise: Mach 1.8

Range: 3000 km with conformal fuel tanks
Combat radius: 760 km
Ferry range: 3200 km
Service ceiling: 20 km
Wing loading: 320 kg/m²
Thrust/weight: 1.3
Maximum g-load: -3.0/+9.0g
1 × AC-3 30mm gatling cannon
6 × under-wing pylons
4 × internal weapons bays
Air superiority mission

10 × AAM-2 anti-aircraft missiles

Ground attack mission

2 × AAM-1 anti-aircraft missiles
12 × AGB-1 cluster bombs

Stealth air superiority mission

4 × AAM-2 anti-aircraft missiles

Stealth ground attack mission

4 × AAM-1 anti-aircraft missiles
6 × AGB-1 cluster bombs OR 2 × AG/VG-2 smart bomb
Radar warning reciever: 500 km
Proximity warning sensor: 20 km
Radar: 200-250 km against 1 m² targets
Multi-tracking: Up to three hundred objects while plotting targeting solutions for up to twelve targets simultaneously.
Ad blocker interference detected!
Wikia is a free-to-use site that makes money from advertising. We have a modified experience for viewers using ad blockers

Wikia is not accessible if you've made further modifications. Remove the custom ad blocker rule(s) and the page will load as expected.