Initially created as the Su-50 by the Sukhoi aircraft construction bureau in the Crimson Star Republic, this 1990s-developed fifth-generation fighter gained popularity in the Old Continent. With the forming of CATO, it spread to many allied nations.
Characteristics
Edit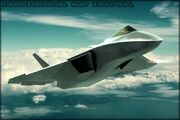 General characteristics
Edit
Max takeoff weight: 37,000 kg
Powerplant: 2 × AL-41F1 or AL-41F2 3D thrust vectoring turbofans
Dry thrust: 96.1 kN (9,800 kgf, 21,605 lbf) each
Thrust with afterburner: 152 kN (15,500 kgf, 34,172 lbf) each
Performance
Edit
At altitude: Mach 2.2 (2300 kph)
Supercruise: Mach 1.75
Ferry range: 4000 km w/o conformal fuel tanks, 5500 km with CFT
Service ceiling: 20,000 m
2 × 30mm internal cannons
N050 X-band AESA
L/S-band AESA on wing and tail tips.
6 point electro-optics/IR sensor system
4 High Bandwidth datalinks/databus
CFN-01 (Su-53) - navalised fighter for carrier operations
Currently present on: Comrade Stanislav class carrier , Byzantine and Shroomanian Nimitz carriers.
CF-01M - modernization program
Operators
Edit
290 CF-01
104 CFN-01
2 CF-01M (trials)
Ad blocker interference detected!
Wikia is a free-to-use site that makes money from advertising. We have a modified experience for viewers using ad blockers

Wikia is not accessible if you've made further modifications. Remove the custom ad blocker rule(s) and the page will load as expected.