Initially created as the Su-54 in the Union by the Sukhoi aircraft construction bureau in the Union of Crimson and Shadow Republics, this 2000s-developed fifth-generation fighter-bomber is currently in service with the Union and Byzantine Air Forces and is evaluated for further export.
Characteristics
Edit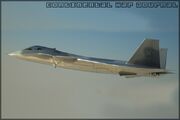 General characteristics
Edit
Max takeoff weight: 45,100 kg
Powerplant: 2 × AL-41F turbofans
Dry thrust: 15000 kgf each
Thrust with afterburner: 21000 kgf each
Performance
Edit
At altitude: Mach 2.2
Supercruise: Mach 1.3
Service ceiling: 16,000 m
1 × 30mm GSh-30-1 internal cannon (1500 RPM, 200 ammo)
Operators
Edit
Ad blocker interference detected!
Wikia is a free-to-use site that makes money from advertising. We have a modified experience for viewers using ad blockers

Wikia is not accessible if you've made further modifications. Remove the custom ad blocker rule(s) and the page will load as expected.