The Comrade Stanislav-class supercarriers (project 1143.8) are the only supercarriers that rival in size and displacement to the MESS-designed supercarriers, and currently are the most modern carrier design in the world, being designed and built in the early XXI century. They also have the largest flight deck in the world among all existing classes of carriers, and are the longest military ships in the service of any nation in the world.
The carriers had an over 8-year long construction span, fully occupying the largest in the Union Severomorsk 61 Kommunar Shipyard dock. The Comrade Stanislav was launched in 2013 and commissioned in 2015, while it's twin was launched in late 2016 and was commissioned during the 100-year anniversary of the Great October Revolution in 2017.
Characteristics
Edit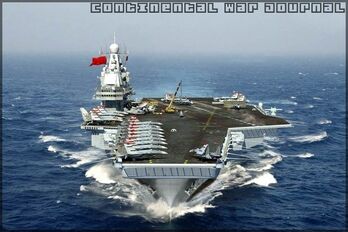 Armament
Edit
Typical Peacetime Airwing (2017)
Edit
Operators
Edit
020 Comrade Stanislav
021 Yuri Andropovsky
Ad blocker interference detected!
Wikia is a free-to-use site that makes money from advertising. We have a modified experience for viewers using ad blockers

Wikia is not accessible if you've made further modifications. Remove the custom ad blocker rule(s) and the page will load as expected.